4G LTE Embedded Dual-WAN VPN Firewall Router
2 Gigabit Ethernet WAN ports for Load Balancing or Failover
4G/LTE Connectivity with Built-In sim card slot.
2 USB ports for 3G/4G modem or extra storage
Built-in 802.11ac Wave 2 dual-band Wi-Fi, delivers speed up to 1.7Gbps (ac/Vac model)
50 simultaneous VPN Tunnels
SPI Firewall with Content Filtering by URL Keyword, Category, and Apps
Central Management for Vigor AP and Vigor Switch
Supports DrayDDNS
Supports IPTECHVIEW
Overview
Vigor2927 LTE Series is a dual-Ethernet WAN firewall router with embedded 4G/LTE connectivity. Embedded 2 SIM slots (1 SIM online at a time) and compliant with LTE Cat 6 to deliver the lightning speed of up to 300/50 Mbps (DL/UL), providing load-balancing and failover for your business continuity. Featuring VPN, QoS, route policy, firewall, content filtering, bandwidth management, captive hotspot portal, and a lot more, this is the ultimate router that does it all for SMB. The series includes built-in 802.11ac Wave 2 Wi-Fi models.
Vigor2927 Series provides reliable broadband connectivity with the multi-WAN accesses. The two Gigabit Ethernet WAN ports can be operated in failover or load balancing mode to ensure a steady Internet connection. The two USB ports can work with 3G/4G/LTE USB modem to add additional wireless Internet access.
Vigor2927 Series also covers comprehensive functions, including VLAN, Bandwidth Management, Quality of Service, DNS Control, SPI Firewall, Web Content Filtering, and Central Management solutions to provide a reliable and secure business network.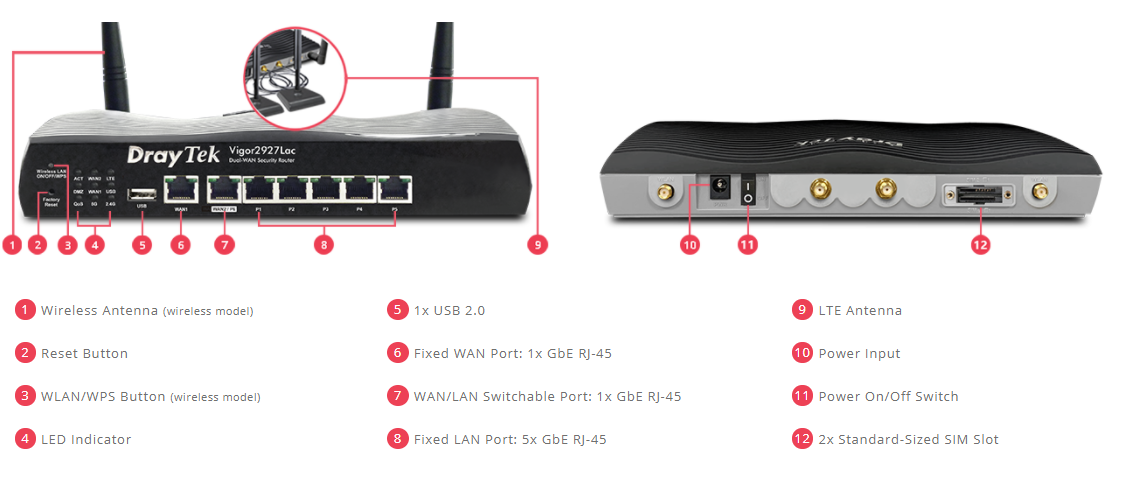 WAN Load Balancing and Failover
Vigor2927 Series has two Gigabit Ethernet WAN ports that can be used for any types of connection, 3G/4G/LTE USB modem can also be attached to the USB ports of the router, and offer wireless Internet connectivity in case the fixed lines are not available. All of the WAN interfaces can be configured to be operated in either Load Balancing mode, which will be active all the time, or in Failover mode, which will be active only when detecting connection loss or heavy load on the primary connection.
On Vigor2927 Series, Load Balancing can be either IP-based mode, which will distribute the packets destined to different IP address across different WANs, or Session-based mode, which allows the packets of different sessions to take different paths, which means a multiple-session connection can be established across multiple WANs, and use multiple WAN's bandwidth at the same time. Policy-based Load Balancing is also supported so that you may specify the path for some certain packets.
To increase network accessibility, Vigor2927 Series also supports High Availability feature and allows one or more redundant Vigor2927 Series to be added to the network and operated in standby mode.
Flexible LAN Management
The 5-port Gigabit Ethernet switch on the LAN side provides high-speed connectivity for the servers and PCs on the local network, and the Virtual LAN (VLAN) feature allows you to separate the LAN clients into different logical domains thus to increase the security and network efficiency. Vigor2926 Series support 802.1Q standard and can build a Tag-based VLAN system with an 802.1Q-support switch, Port-based VLAN is also supported that each LAN port can be configured as a member of different VLAN and be isolated from each other without the use of VLAN tag.
Firewall and Security
Vigor2927 Series supports Stateful Packet Inspection (SPI) Firewall and flexible filtering rules, it can accept or deny packets based on the information in the packet header (such as source IP, destination IP, protocol, and port number) or the packet's application. IP-based restrictions can be set to filter certain HTTP traffic as well as various application software and help you to prevent time and network resource wasting on inappropriate network activities.
With an annual subscription to Cyren Web Content Filtering service, you may also filter the websites by their categories, and set up restrictions to block the whole categories of websites (such as Social Networking, Gambling.. etc.) without the need to specify every site you would like to block. The Cyren service is constantly updating the categorization, and a free 30-day trial is included in each new router.
The Vigor2927 Series firewall also includes DoS (Denial of Service) Defense to protect the network against variants of attacks.
Comprehensive VPN
Vigor2927 Series supports both LAN-to-LAN VPN and Remote Dial-in VPN, up to 50 VPN tunnels can be set up simultaneously. All the industry standard tunneling protocols are supported, including PPTP, L2TP, IPsec, and GRE, and it's compatible with 3rd party VPN devices.
Vigor2927 Series also support SSL VPN - a type of VPN based on the very common encryption method which is used by all the HTTPS websites. While the traditional VPN protocols might be filtered by the firewall and NAT of public networks, SSL VPN will be passed as long as the HTTPS is allowed. DrayTek also offers free official client App for Windows, iOS, and Android.
VPN Trunking is also supported by Vigor2927 Series, this allows you to establish two VPN tunnels to the same remote site but through different WAN interfaces. The two trunking tunnels can be set up in load balancing or failover mode.
Centralized Management
Vigor2927 Series can be the central management portal for all the Vigor devices on the same network, including VigorAPs and VigorSwitches, which allows the administrator to manage all the devices through a single portal. Vigor2927 Series also embeds CVM (Central VPN Management), an easier way for Network administrator to establish and manage VPN connections between several CPEs (VPN Client). The router itself supports TR-069 protocol and can be remotely managed and monitored through the TR-069-based VigorACS system, thus to reduce the need for on-site technicians.

Models
Model
WAN Port
2.4GHz WLAN
5GHz WLAN
Wireless Antenna
Max Link Rate
Mesh
VoIP Gateway
FXS RJ11
Vigor2927
GbE, RJ-45
-
-
-
-
-
-
-
Vigor2927ax
GbE, RJ-45
Yes
Yes
2x Dual-Band (4dBi for 5GHz, 2dBi for 2.4GHz)
2.4 GHz: 574 Mbps
5 GHz: 2.4 Gbps
-
-
-
Vigor2927ac
GbE, RJ-45
Yes
Yes
2x Dual-Band (4dBi for 5GHz, 2dBi for 2.4GHz)
2.4 GHz: 400 Mbps
5 GHz: 867 Mbps
Yes
-
-
Vigor2927Vac
GbE, RJ-45
Yes
Yes
2x Dual-Band (4dBi for 5GHz, 2dBi for 2.4GHz)
2.4 GHz: 400 Mbps
5 GHz: 867 Mbps
Yes
Yes
2
Vigor2927L
GbE, RJ-45
-
-
-
-
-
-
-
Vigor2927Lac
GbE, RJ-45
Yes
Yes
2x Dual-Band (4dBi for 5GHz, 2dBi for 2.4GHz)
2.4 GHz: 400 Mbps
5 GHz: 867 Mbps
Yes
-
-
Application
Multi-site Business Deployment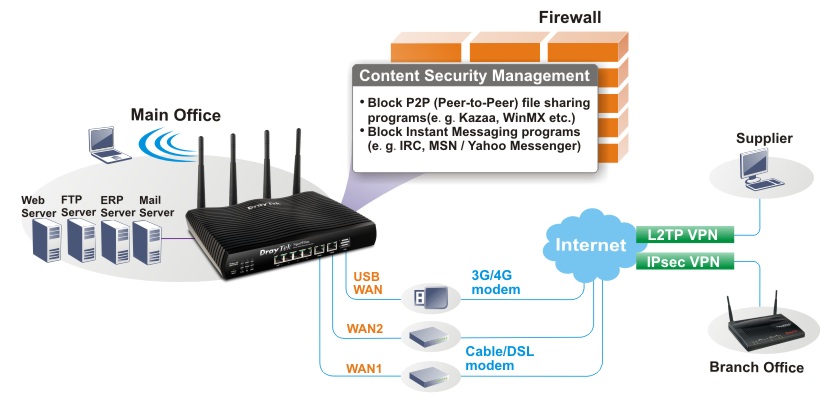 ---
Comprehensive Firewall

---
802.11ac Wave 2 
(ac/Vac model)
802.11ac Wave 2 can simultaneously stream to multiple users to maximize bandwidth utilization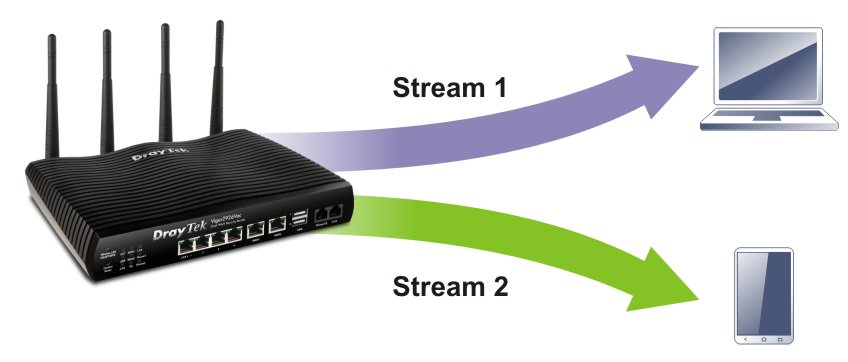 ---
Central Management

---
Support Smart Monitor up to 30 PC Users

---
Flexible Installation with Rackmount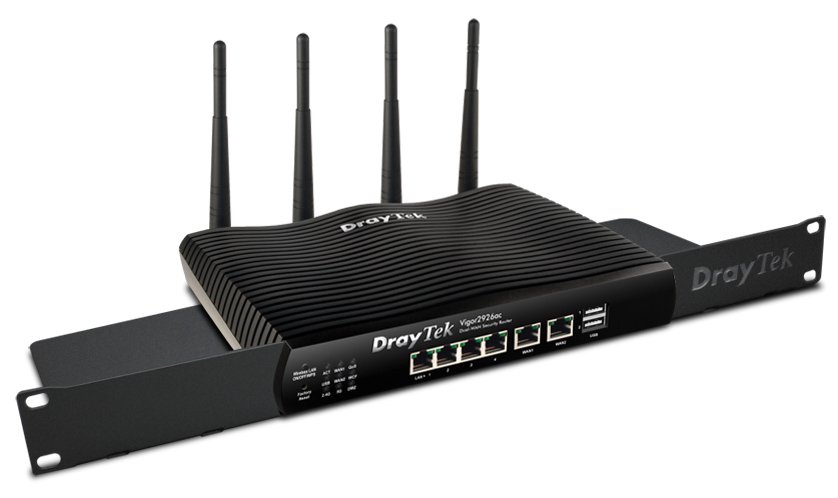 Specs
Interface

Fixed WAN Port
1x GbE RJ-45
WAN/LAN Switchable Port
1x GbE RJ-45
Fixed LAN Port
5x GbE RJ-45
USB Port
2x USB 2.0 for 3G/4G/LTE USB modem, storage, printer or thermometer
RJ-11 Port for Voice
2x FXS (V model)
Wi-Fi Antenna
2x External Dipole
Gain: 4 dBi for 5GHz, 2 dBi for 2.4GHz
(wireless model)
2.4G WLAN
802.11n 2x2 MIMO 400Mbps (wireless model)
5G WLAN
802.11ac Wave 2 2x2 MU-MIMO 867Mbps (dual-band model)

Performance

NAT Throughput
800 Mbps
NAT Throughput w/ Hardware Acceleration
940 Mbps (Single WAN)
1.8 Gbps (Dual WAN)
IPsec VPN Performance
290 Mbps (AES 256 bits)
SSL VPN Performance
120 Mbps
Max. Number of NAT Sessions
60,000
Max. Concurrent VPN Tunnels
50
Max. Concurrent OpenVPN + SSL VPN
25

Internet Connection

IPv4
PPPoE, DHCP, Static IP, PPTP/L2TP
IPv6
PPP, DHCPv6, Static IPv6, TSPC, AICCU, 6rd, 6in4 Static Tunnel
802.1p/q Multi-VLAN Tagging
 
Multi-VLAN/PVC
 
Wireless WAN
 (ac model)
3G/4G/LTE WAN with USB modem
 
Load Balancing
IP-based, Session-based
WAN Active on Demand
Link Failure, Traffic Threshold
Connection Detection
ARP, Ping
WAN Data Budget
 
Dynamic DNS
 
DrayDDNS
 

LAN Management

VLAN
802.1q Tag-based, Port-based
Max. Number of VLAN
16
Number of LAN Subnet
8
DHCP Server
Multiple IP Subnet, Custom DHCP Options, Bind-IP-to-MAC
LAN IP Alias
 
Wired 802.1x Authentication
 
Port Mirroring
 
Local DNS Server
 
Conditional DNS Forwarding
 
Hotspot Web Portal
 
Hotspot Authentication
Click-Through, Social Login, SMS PIN, Voucher PIN, RADIUS, External Portal Server

Networking

Routing
IPv4 Static Routing, IPv6 Static Routing, Inter-VLAN Routing, RIP, BGP
Policy-based Routing
Protocol, IP Address, Port, Domain, Country
High Availability
 
DNS Security (DNSSEC)
 
Multicast
IGMP Proxy, IGMP Snooping & Fast Leave, Bonjour
Local RADIUS server
 
SMB File Sharing
 (Requires external storage)

VPN

LAN-to-LAN
 
Teleworker-to-LAN
 
Protocols
PPTP, L2TP, IPsec, L2TP over IPsec, SSL, GRE, IKEv2, IKEv2-EAP, IPsec-XAuth, OpenVPN
User Authentication
Local, RADIUS, LDAP, TACACS+, mOTP
IKE Authentication
Pre-Shared Key, X.509
IPsec Authentication
SHA-1, SHA-256
Encryption
MPPE, DES, 3DES, AES
VPN Trunk (Redundancy)
Load Balancing, Failover
Single-Armed VPN
 
NAT-Traversal (NAT-T)
 
DrayTek VPN Matcher
 

Firewall & Content Filtering

NAT
Port Redirection, Open Ports, Port Triggering, DMZ Host, UPnP
ALG (Application Layer Gateway)
SIP, RTSP, FTP, H.323
VPN Pass-Through
PPTP, L2TP, IPsec
IP-based Firewall Policy
 
Content Filtering
Application, URL, DNS Keyword, Web Features, Web Category* (*: subscription required)
DoS Attack Defense
 
Spoofing Defense
 

Bandwidth Management

IP-based Bandwidth Limit
 
IP-based Session Limit
 
QoS (Quality of Service)
TOS, DSCP, 802.1p, IP Address, Port, Application
VoIP Prioritization
 

Wireless LAN (ac model)

Number of SSID
4 per radio band
Security Mode
WEP, WPA, WPA2, Mixed(WPA+WPA2), WPA3
Authentication
Pre-Shared Key, 802.1X
WPS
PIN, PBC
WDS
Repeater (5GHz only)
Access Control
Access List, Client Isolation, Hide SSID, WLAN Scheduling
AirTime Fairness
 
Band Steering
 (ac model)
MU-MIMO
 (5GHz Only) (ac model)
WMM
 

VoIP Gateway (V model)

Protocol
SIP, RTP/RTCP, ZRTP
SIP Registrars
12
Dial Plan
Phone Book, Digit Map, Call Barring, Regional
Call Features
Call Waiting, Call Transfer, Scheduled DND, Hotline
Voice Codec
G.711 A/u law, G.723.1, G.726, G.729 A/B
Caller ID
FSK_ETSI, FSK_BELLCORE, DTMF

Management

Local Service
HTTP, HTTPS, Telnet, SSH v2, FTP, TR-069
Config File Export & Import
 
Config File Compatibility
Vigor2926
Firmware Upgrade
TFTP, HTTP, TR-069
2-Level Administration Privilege
 
Access Control
Access List, Brute Force Protection
Notification Alert
SMS, E-mail
SNMP
v1, v2c, v3
Syslog
 
Managed by VigorACS
 
Central VPN Management
8 VPN
Central AP Management
20 VigorAP
Mesh Network
7 VigorAP
Central Switch Management
10 VigorSwitch

Physical

Power Supply
DC 12V @ 2A
Max. Power Consumption
24 watts (ac model)
Dimension
241mm x 165mm x 44mm
Weight
630g (ac model)
Operating Temperature
0 to 45°C
Storage Temperature
-25 to 70°C
Operating Humidity (non-condensing)
10 to 90%
Certificate